Eight Awesome Ways to Blow your Blogging Money
Growing up, I never realized how little money my family had. We spent our Summers in California, I always had more clothes than I could wear and my birthday and Christmas presents were always top-notch. Now that I'm older and responsible for my own finances, I realize my parents don't have that much money. It's not like we're poor, but I want to be able to support our family. That's one of the reasons I set up an Adsense account and show a teeny tiny ad on this blog.
Over the past few months I've made a little money and when I reach €70 I'll get paid (I hope that'll be some time in June). I swore to myself that I would use the money sensibly and use it to pay my college tuition. But then I discovered a site called I Waste So Much Money and gone were my plans of buying next semester's books with my blogging money...

You see, there are so many amazing things I could do with €70! I could buy at least 20 of these cards and send them to all my blog buddies all over the world. 'Cause, you know, I tolerate your online company so much I might start to actually like you ;)

Or I could by a bunch of these, make the toilets at college awesome and mess with the minds of every female Potterhead there! I wonder how many would actually try to flush themselves... :P
I could also be selfish and blow it all in one go. I wouldn't mind spending all that money on one of these. I can already see them hanging on the wall of my future apartment!
Maybe I should spend it all on something that's useful for my parents too. Though I don't think they'd be very happy if they come home one day to see their couch covered with superhero pillows XD
Or I could, you know, do my usual freaky thing and obsess over mythical creatures. Or monsters, as they call them here. I honestly want to buy this map, go to the States and go looking for Bigfoot.
But buying something I could wear all year long, like these wristees, would be so awesome. They're quite expensive, but who cares? With these things I on I'd finally have a good excuse to pretend I'm Iron Man!
Buy the awesomeness
here
Another awesome option would be buying two of these shirts and wear them to my track meetings. Running a 5k would be so much more fun in one of these!
Wait, no. I'm not going to do any of those things. Because if there's one thing I really, really need, it's this dress. I'm going to Comic con in Belgium with a friend and I can't go without cosplaying. Okay, it might be a bit more expensive than €70, but come on people, it's a Captain America inspired dress!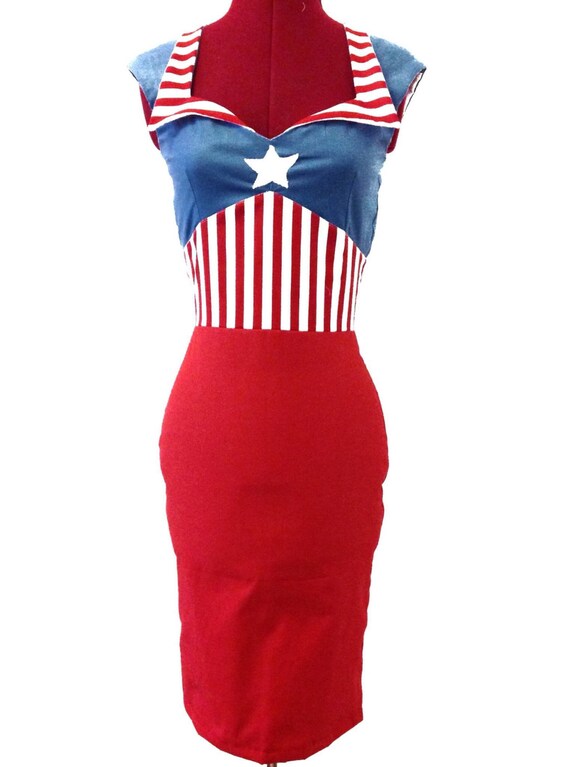 You could buy me this as a birthday present right here :P
The options are endless... I could also buy three quarters of a train ticket to Paris. Or half a cell phone. I could buy three or four new books, the eight volumes of Full Metal Alchemist which I don't have yet, I could go see ten movies in the cinema or buy all the seasons of Game of Thrones on DVD... Or pay for next semesters text books anyway. At the end of the day, I'd probably use it to get myself through college. Because there's always this tiny voice in my head telling me I need a college degree more than I need a Captain America dress...
But enough about how I'd like to blow my blogging money. What would you buy if you suddenly had some money to spend?
Stay Awesome!