5 Reasons Why I'll Never Be a Writer at Buzzfeed
It was October when I discovered this glorious channel called Buzzfeed Video. One video of Americans trying Indian food and I was completely hooked. I thought nothing could top the taste tests, but I was wrong: the Try Guys were even better.
When it came to Buzzfeed, I'd been living under a rock until that day. I didn't know there was a website, neither did I know you could write for it or that becoming a Buzzfeed writer was an option. But now, about six months later, I've found out five reasons why I'll never be a Buzzfeed writer. The reasons will astonish you!


#1. Not a nostalgic 90s kid
I was there in the 90s! Well, from 1996 till the end I was there, but my main focus was eating, sleeping, and being an adorable little baby and toddler. The things I remember are playing outside, watching the Lion King and knocking over the stack of VHS tapes, because the Lion King somehow always ended up at the bottom of the stack. But am I nostalgic? Do I miss the typical 90s stuff?
No. Okay, I miss climbing trees and playing in the woods, but which kid didn't do those things? You don't have to be a 90s kid to miss childhood. So sadly, I won't be able to contribute anything to Buzzfeed's beloved 90s lists.
#2. How do you do gifs?
While everyone who's ever written a Buzzfeed article has an appropriate gif for every situation, I'm still trying to figure out how to pronounce the word. I simply suck at it, both at pronouncing and using gifs. It's not for lack of trying though, but every time I try I end up throwing my hands dramatically into the air, thinking: 'What am I doing wrong?! Why can't I freaking do this?!'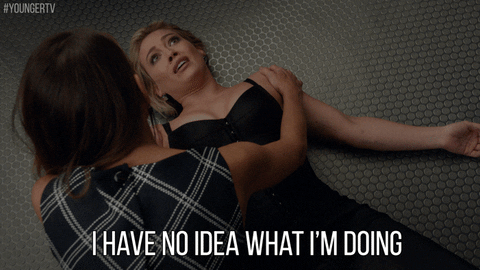 #3. My Dutchness
Now let's take a step back. There's Buzzfeed UK, Buzzfeed Canada, Buzzfeed India, Buzzfeed Japan... Probably some other branches too. But Buzzfeed Holland? Not gonna happen. We Dutch people prefer to read in Dutch or stick to regular Buzzfeed, 'cause we love everything American and the rest is way too exotic. So no Buzzfeed office for me to work at.
There's also the thing about being white and some Buzzfeed branches (*cough*
Buzzfeed Canada
*cough*) seem to prefer minorities...
#4. Wait, what am I supposed to write about? Is that a person?
I know one Kardashian: the one that was compared to an orca when she was pregnant. There's not a single boyband I really like. I'm trying hard to come up with a third example, but I'm failing miserably, which only proves that I'm not good at the whole celebrity thing. I don't care much about the 'awesome' celebrities, I don't care about the regular famous people and I definitely don't care about the shitty celebrities. So how would I ever be able to write about something completely crazy like the
1D baby conspiracy
? Hats off to the person who wrote that one by the way, but I don't see myself pulling it off.
#5. 21 things about... shit, I only know 4
I've done my math. On average, my list posts contain 6,4 items. Buzzfeed lists? Well, I didn't do the math for Buzzfeed lists since I've reached my math quota for this month by analyzing my own posts. Anyway, I'm pretty sure we can all agree that their lists are much longer than mine. They have this things with 10 and 15 and for some reason I don't get, 21. If anyone knows why, do tell me.
Either way I'll never be able to meet that criterium, because this is only my fifth reason why I'll never be able to work at Buzzfeed and uhm... I'm kind of done...
I wouldn't say no to a job at Buzzfeed. Acutally I wouldn't turn any job offer that involved writing articles down. But let's face it: I'm no good for this site.
Stay Awesome!